Greatest mystery
of this era
WAOWE
PRICELESS,
CONTROVERSIAL,
MYSTICAL & SCIENTIFICAL…
"A sublime work of art"
A gem for humanity's ark of wisdom.
A piece of art that holds the key for our civilization to thrive.
The first evidence of another kind of intelligence.
A hint to access Earth's limitless energy.
ONE canvas
Specs.
Hyper-realistic painting, mixed technique on canvas 197.4 cm. x 122cm. (77.7 x 48 in.)
Multifaceted design, hidden layers of 7 ephemeral paintings covered up.
+ Under different lights it reveals other peculiarities.
+ Augmented reality.
+ Digital version, photo, video, gif, footage, time-lapse and brochure.
EPHEMERAL 7
Story
April 3, 2012 WAOWE symbol is discovered, 8 years later some of its mysteries deciphered. From April 21, 2021, to March 14, 2022, WAOWE symbol was painted as found in nature. Around it, for 7 days, 7 well planed ephemeral paintings were painted one over the other, as shown on the time-lapse. Few people got to see them in real life before they disappeared.
"Tough, a life changing process, to see one's work disappear in such a short time, having to let go beauty, dedication, effort, things that become cherished…"
WAOWE'S 7 MYSTERIES
A quest to reveal the 7 secrets, real knowledge of Earth, hidden in the canvas of the WAOWE transcendental painting.
You can win prices on each of its 7 stages.
Each stage has NFTHints that release a NFTMystery when the copies are sold out.
Once the unique NFTMystery is sold, next stage Hints are released.
For each Hint a riddle, guess and win the base value of a Hint. First one wins.
There is a prize for Unique NFT MYSTERIES collector also.
+ Artistic productions and surprises in the process.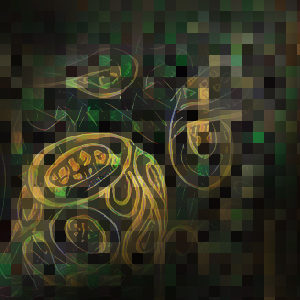 NFT HINTS
STAGES
Kick-off: UNLEASH THE WAOWE One earthling is about to change the world.
Stg.1 AIR NFTM + 3 NFTHints, 10 copies each.
Stg.2 WATER NFTM + 3 NFTHs/ 20c.
Stg.3 METAL NFTM + 3 NFTHs/ 30c.
Stg.4 BOLT NFTM + 3 NFTHs/ 40c.
Stg.5 LIGHT NFTM + 3 NFTHs/ 50c.
Stg.6 LIFE NFTM + 3 NFTHs/ 60c.
Stg.7 COSMOS NFTM + 3 NFTHs. /70c.
Stg.8 GEA begins.
NFT Mysteries
Meet the staff
We are working to make a worldwide integral art project come to life.
A deep reflection over "The human role in Earth's homeostasis".